| | | | |
| --- | --- | --- | --- |
| You are here: Export Marketing > The Role of Trade Fairs as a marketing tool | | | |
The Role of Trade Fairs as a marketing tool
What are trade fairs?
Trade fairs are time- and (often) sector-defined marketing events at which the fundamental products and innovations of an industry or sector are exhibited by a variety of companies referred to as exhibitors and which are targeted at interested buyers and industry participants- the visitors. These trade fairs are usually organised by government, chambers, industry associations, or by specialised exhibition companies.
Trade fairs represent a real-time, interactive environment bringing together supply and demand in a certain industry. They promote the formation and growth of markets and market segments and one can distinguish three economic functions of trade fairs, namely the exchange of goods, the sharing of information and the promotion of products and organisations. The figures below show how trade fairs facilitate the exchange process.
| | |
| --- | --- |
| | |
| Situation without trade fairs | Using trade fairs |
Source: Rowena Arzt – April 27th, 2006 – Deutsch-Polnisches Wirtschaftsforum
Trade fairs come in different forms
Trade fairs differ markedly from one another. Some are specialised; others general. Some have an industry focus; others have a consumer focus. Some are local; others international. Some are aimed at buyers; others at sellers. The table below provides a broad classification of trade fairs.
| | |
| --- | --- |
| Characteristics | Type of trade fair |
| Origin of participants | Local, regional, national or international trade fairs |
| Range of goods offered | Universal/general, special interest or industry-specific |
| Type of goods | Consumer goods or industrial goods |
| Involved associations | Chambers, governments, international organisations, industry associations, specialised exhibitions firms |
| Direction of Sales | Import/buying or export/selling |
| Principal Task | Exchange, information or promotion |
Source: Rowena Arzt – April 27th, 2006 – Deutsch-Polnisches Wirtschaftsforum
Opportunities and challenges for participants
Trade fairs offer participants both opportunities and challenges. These are:
Opportunities for participants
Gaining a quick overview of the marketplace
Fairs help to reduce uncertainty about an unknown market
Building business contacts and an impression of potential business partners
Being in the centre of public interest
Fairs represent a powerful marketing instrument to promote even complex products and services
Challenges for participants
Choosing the "right" events and locations for participation
Increasing geographic distance leads to an increase in logistic complexity
The cost attached to event-specific brochures, staff, stand design etc.
Defining clear objectives regarding the participation
Trade fairs and marketing
Trade fairs are classified as a form of sales promotion – a sub-category of marketing promotion. They enable companies to undertake market(ing) research and to promote themselves. Some trade fairs even allow companies to sell their products, thereby helping to generate sales. They permit you to advertise your products and to generate positive publicity for both your company and its offerings. It is also a forum where you can make contact with potential customers and to sell to them on a face-to-face basis (linking personal selling to direct marketing). A trade fair is like a shopping mall; a one-stop-shop where you can buy everything that you need at home. It enables you to do all of your marketing compressed into a short time-frame and single venue.
We strongly recommend trade fairs
We at ExportHelp are confident that international trade fairs are one of the best marketing channels available to the South African exporter. A trade fair represents a one-stop-shop where industry buyers and sellers come together for a few days to show what they have, to see what is available and to do business. There is no other business channel that provides such an intense marketing forum as a trade exhibition. The figure below illustrates the fact that trade fairs facilitate and speed up foreign market-entry strategies.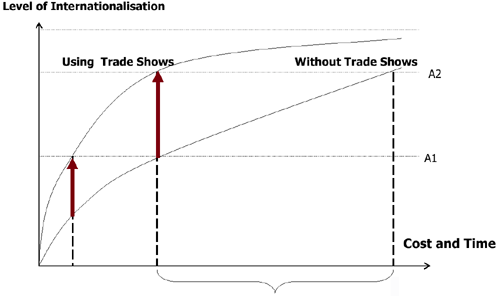 Increase in costs and time needed to reach the same level of internationalisation

Source: Rowena Arzt – April 27th, 2006 – Deutsch-Polnisches Wirtschaftsforum
Trade fairs are not for everyone
Unfortunately, trade fairs are not for every exporter. It may be that there is no suitable trade fair for your particular industry in a specific country. Trade fairs are quite costly and may be beyond your financial capabilities (perhaps you should attend the fair not as an exhibitor but as a participant).
More information
Click here to learn more about preparing and participating in trade fairs
Click here to access a comprehensive list of tips and hints on participating in trade fairs.
Click here to access 100 great reasons to exhibit
Click here to access an example of a 'lead' form
Click here if you need some exhibition/trade fair 'coaching.'
Click here if you want to attend a workshop on trade fairs/exhibitions?
Click here to read this article on "making the best of craft trade fairs"
Reference
Click here to access the presentation by Rowena Artz.