What are trade fairs?
Trade fairs are time- and (often) sector-defined marketing events at which the fundamental products and innovations of an industry or sector are exhibited by a variety of companies referred to as exhibitors and which are targeted at interested buyers and industry participants- the visitors. These trade fairs are usually organised by government, chambers, industry associations, or by specialised exhibition companies.
Trade fairs represent a real-time, interactive environment bringing together supply and demand in a certain industry. They promote the formation and growth of markets and market segments and one can distinguish three economic functions of trade fairs, namely the exchange of goods, the sharing of information and the promotion of products and organisations. The figures below show how trade fairs facilitate the exchange process.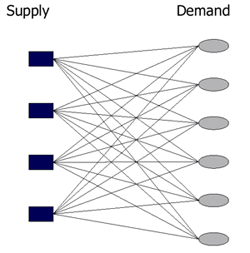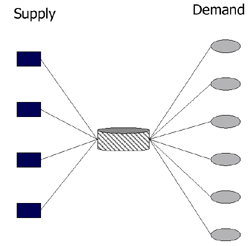 Situation without trade fairs                           Using trade fairs
Source: Rowena Arzt – April 27th, 2006 – Deutsch-Polnisches Wirtschaftsforum
Trade fairs come in different forms
Trade fairs differ markedly from one another. Some are specialised; others general. Some have an industry focus; others have a consumer focus. Some are local; others international. Some are aimed at buyers; others at sellers. The table below provides a broad classification of trade fairs.
| | |
| --- | --- |
| Characteristics | Type of trade fair |
| Origin of participants | Local, regional, national or international trade fairs |
| Range of goods offered | Universal/general, special interest or industry-specific |
| Type of goods | Consumer goods or industrial goods |
| Involved associations | Chambers, governments, international organisations, industry associations, specialised exhibitions firms |
| Direction of Sales | Import/buying or export/selling |
| Principal Task | Exchange, information or promotion |
Source: Rowena Arzt – April 27th, 2006 – Deutsch-Polnisches Wirtschaftsforum
Opportunities and challenges for participants
Trade fairs offer participants both opportunities and challenges. These are:
Opportunities for participants
Gaining a quick overview of the marketplace
Fairs help to reduce uncertainty about an unknown market
Building business contacts and an impression of potential business partners
Being in the centre of public interest
Fairs represent a powerful marketing instrument to promote even complex products and services
Challenges for participants
Choosing the "right" events and locations for participation
Increasing geographic distance leads to an increase in logistic complexity
The cost attached to event-specific brochures, staff, stand design etc.
Defining clear objectives regarding the participation
Trade fairs and marketing
Trade fairs are classified as a form of sales promotion – a sub-category of marketing promotion. They enable companies to undertake market(ing) research and to promote themselves. Some trade fairs even allow companies to sell their products, thereby helping to generate sales. They permit you to advertise your products and to generate positive publicity for both your company and its offerings. It is also a forum where you can make contact with potential customers and to sell to them on a face-to-face basis (linking personal selling to direct marketing).  A trade fair is like a shopping mall; a one-stop-shop where you can buy everything that you need at home. It enables you to do all of your marketing compressed into a short time-frame and single venue.
We strongly recommend trade fairs
We at ExportHelp are confident that international trade fairs are one of the best marketing channels available to the South African exporter. A trade fair represents a one-stop-shop where industry buyers and sellers come together for a few days to show what they have, to see what is available and to do business. There is no other business channel that provides such an intense marketing forum as a trade exhibition. The figure below illustrates the fact that trade fairs facilitate and speed up foreign market-entry strategies.
Source: Rowena Arzt – April 27th, 2006 – Deutsch-Polnisches Wirtschaftsforum
Trade fairs are not for everyone
Unfortunately, trade fairs are not for every exporter. It may be that there is no suitable trade fair for your particular industry in a specific country. Trade fairs are quite costly and may be beyond your financial capabilities (perhaps you should attend the fair not as an exhibitor but as a participant).
Finding trade fairs
The links below provide a number of useful resources for finding s trade fair suitable for your needs.
Thailand International Trade Fair Program
Brought out by the Thai Department of Export Promotion.
Messe Frankfurt
With more than 100 trade fairs and exhibitions worldwide the Messe Frankfurt GmbH is a major player in global trade fair business. Here you will find information on the company and on our trade fairs, events, congresses and conferences.
Iran International Exhibitions
Iran international exhibitions company (iIEC) is the largest and the leading organizer of international and specialized exhibitions in iran with its offices located at tehran permanent fair ground.
Japan External Trade Organisation
Extensive trade fair database that offers comprehensive information on fairs and exhibitions held in Japan and globally. Users can search by industry, location and date. Also regularly features online virtual trade fairs devoted to a range of business categories.
Deutsche Messe AG
Deutsche Messe AG´s core competence consists of organizing internationally leading trade fairs at its home base of Hannover as well as at selected tradeshow locations abroad.
Neway International Trade Fairs
Neway International Trade Fairs Ltd specializes in organizing large-scale international trade fairs in Hong Kong, Mainland China and other countries, offering excellent trade opportunities to a wide spectrum of industries including jewellery and accessories, golf, sports and fitness, beauty and health, education, etc. Our fairs attract an annual attendance of over 800,000 visitors from Hong Kong, China and 60 other countries. All Neway Fairs provide manufacturers and buyers from different sectors an effective channel to conduct business, consolidate contacts and promote corporate image.